Yes, You read the title correctly.
If you haven't got the word yet then here's the deal: "Microsoft .NET is going public with its source and will also run on Linux and Mac".
Until recently, this has been science fiction stuff, but today is a new day and a very exiting one for Microsoft based developers and decision makers.
Here's the main features for the upcoming .NET 2015:
.NET Core
.NET core is a "cloud optimized" version of the .NET framework and will contain the core features of the .NET framework.
It focus on being open source and running on multiple platforms, that means it will include CLR for running your application on Mac as well on Linux!
This is huge because in time, you'll be able to develop and run application on those platforms, meaning you can create a single cross-platform application for all needs.
.NET developers will soon start developing mobile application for iOS, for example.
.NET Core is open source on GitHub
The .NET core will be hosted on GitHub meaning you can include it as a private package on your application.
Of course, being an open source on GitHub will let developers extend it, use pull requests for it (PRs), post and track bugs, while posting some new ideas for the .NET framework.
".NET framework Reference" has been on GitHub for some time and now it will support .NET Core as well as the .NET framework.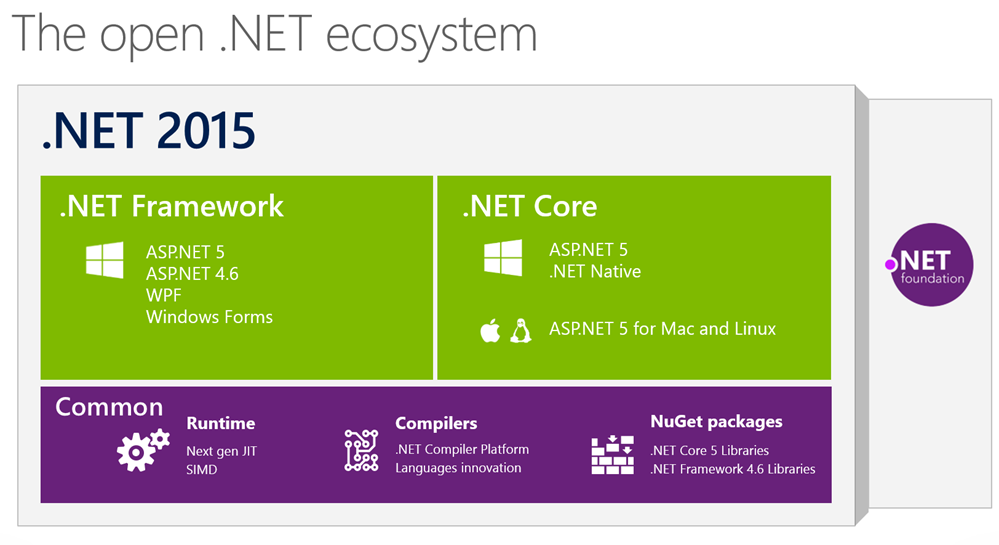 .NET framework 4.6
This latest update on the .NET framework is expected to be shipped in 2015.
It include the following major features:
WPF improvement and Roadmap
Windows Forms High DPI
A brand new generation JIT compiler – RyuJIT
CLR Performance improvements
You can read more in details on this upcoming release here.
Visual Studio 2015 and Visual Studio Community
2 new editions of Visual Studio is upon us, brace yourself.
Visual Studio Community
There's a new Visual Studio edition that is very similar to the Pro and will be free for students, open source developers and other individual developers.
Visual Studio community will include all the great Visual Studio features including Support for open source, compilers for managed languages and C++, cross platform mobile development including web, Android, iOS and more.
As of all Visual Studio editions, Community will include Azure cloud services integration.
Visual Studio 2015 Preview
This (next) year edition will include some new and exciting features for new comers as well as experienced developers.
Visual Studio is going cross-platform as well and will include some new features to support that.
The main and new features will include:
Visual C++ for Cross Platform Mobile Development
Visual Studio Emulator for Android
Visual Studio Tools for Apache Cordova
Support for the new .NET 2015 preview
WPF vNext Roadmap
Add Connected Services to connect to cloud based services as Azure Storage / Mobile Services and Saleforce
Web platform and tool improvements
Blend for Visual Studio 2015
Brand new NuGet Package manager
And much more. You can read on those in detail here.
ASP.NET 5 and ASP.NET MVC 6
The brand new ASP.NET 5 will have some major features as well.
Here are the main ones:
It unifies ASP.NET MVC, Web API and Web pages into a single API called MVC 6.

Environment-based configuration for a seamless transition to the cloud.
Dependency injection out-of-the-box
Run in IIS, or self-hosted in your own process

All open source through the .NET Foundation, and takes contributions in GitHub.
ASP.NET 5 runs on Windows with the .NET Framework or .NET Core
ASP.NET 5 runs on OS X and Linux
Conclusion
That's a lot for new and exciting features in a single release.
This is truly will take Microsoft and its .NET platform to the next level.
You can read on the official announcement and release notes here.